Providers:
Meet your
new favorite
healthcare app.
An exclusive
marketplace that
moves your
practice forward
shiftMD is the intuitive app women's health providers use to recommend best-in-class wellness products to their patients. The shiftMD app is specially curated for female healthcare, so you'll only see products you want to recommend — products hand-picked by medical experts.
With shiftMD, providers can send product recommendations directly from their phones to their patients' phones — no time-consuming trips to the pharmacy or mind-numbing internet searches necessary.
Download the app
You can find the shiftMD app in the App Store or Google Play.
Just enter your NPI number to verify your provider credentials.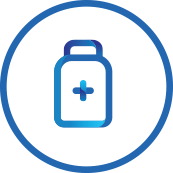 Explore the inventory
With an intuitive interface, you'll be able to quickly find evidence-based products you want to recommend.
See the variety of products for each condition and learn about the science behind them including suggested protocols.
Recommend products
Simply locate the product you want to recommend and establish the duration of therapy.
Enter your patients mobile number and a link to order the product will be sent to your patient via text. All they need to do is tap that link to complete their order, and the product will be shipped directly to them — simple as that.
Enhance Patient Outcomes
Your patient will receive your product recommendations straight to their doorstep
For patients on a duration of therapy (DOT), they'll get a shipment each month automatically, making the process seamless and easy for patients to stay on track with treatment plans.
Earn income
Every time a patient completes an order on a product you recommend through shiftMD, your account will be credited for a portion of that sale.
You can unlock these earnings and transfer them to your bank or PayPal account at any time.